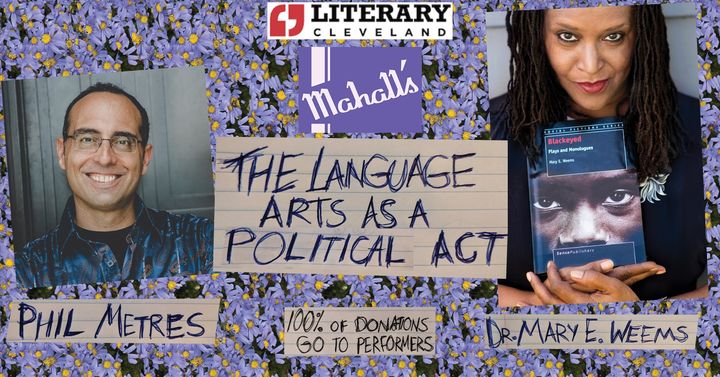 The Language Arts As A Political Act
How can we artists be present in 2020? Two noted Cleveland-based literary PhDs discuss creating politically motivated poetry & plays.
Featuring Dr. Mary E. Weems, Cuyahoga County Public Librarys Poet-in-Residence 2019-2020, & John Carroll University professor & Guggenheim fellow Philip Metres.
DR. MARY E WEEMS is an accomplished author, poet, playwright, and social/cultural foundations scholar. Her work is inspired by the human condition and by what is happening to Black people in America around issues of race, gender and class. To date, Weems has authored thirteen books and her plays and/or excerpts have been published or produced for nearly two decades.
Weems cultural diversity work is grounded in her imagination-intellect theory which states empathy is an integral part of deconstructing prejudicial biases, being socially conscious, and of discovering the inextricable connection between all human beings.
PHILIP METRES was born in San Diego on July 4th, 1970, the son of a Lebanese American Vietnam Veteran and a ex-convent novitiate of Irish and German extraction. Since receiving a Ph.D. in English and an M.F.A. in creative writing from Indiana University in 2001, Metres has written and translated over fifteen books and chapbooks, including Shrapnel Maps (2020), which was featured in The New York Times. Metress work has been called "beautiful, powerful, magnetically original" (Cleveland Arts Prize citation). Lawrence Joseph has written that "Philip Metres's poetry speaks to us all, in ways critical, vital, profound, and brilliant." His poems have been translated into Arabic, Polish, Russian, and Tamil.