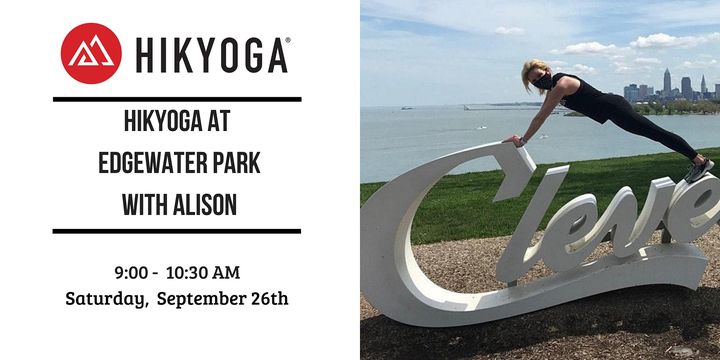 Hikyoga at Edgewater Park with Alison
Hikyoga at Edgewater Park with Alison
Looking to get outside and take a walk through nature? You don't want to miss this beautiful class at Edgwater Park! We will meet at the Cleveland Sign.
Edgewater Park is a gem! The park features beautiful views of Lake Erie, city views and a beautiful wooded trail!
What to expect: The trail is just over a mile and a half long and rated easy. We will begin with a 45-minute all level vinyasa flow overlooking Lake Erie, hike in the woods to the beach, where we will stop for a meditation & end our class with relaxing stretching! This is considered to be an "easy" level hike and fine for beginner yogis! Length of hike will be approximately 1.5- 2 miles long total.
– Things you will need: face covering/mask, a yoga mat (and carrier/strap if you have one), water, bug spray, hat, sunglasses, comfortable clothing and shoes.
– Check-in will begin at 8:45am and class will promptly begin at 9:00am!
– Restrooms are on-site, but may not be permitted access, so plan accordingly. – Let's be green! No need to print tickets!
– Please Note: Parking can be found by the Cleveland sign on Upper Edgewater Drive, https://goo.gl/maps/8pmDoZrbQhyjsgz6A
*This event is limited to the number of people to follow COVID regulations. Please respect your fellow yogi by keeping a safe 6ft space between you at all times.
*This is a rain or shine event. If due to extreme weather an email will be sent out an hour before to cancel. Be sure to check your mail. If you have any questions please email alisonwakelee@yahoo.com.