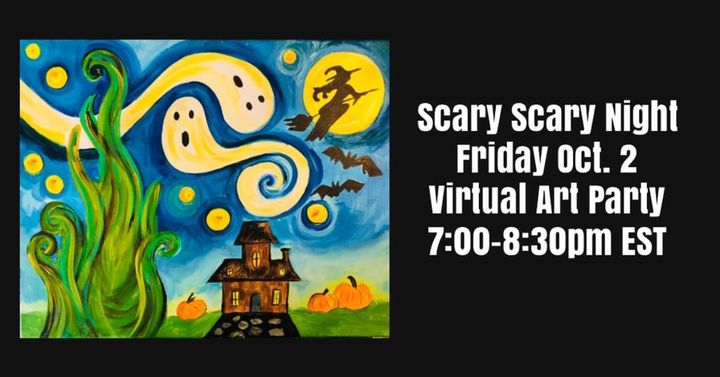 Halloween Family Fun Online Art Party
Halloween Scary Scary Night – Virtual Step by Step Art Party (LIVE)! 🎃👻🎃
Would you love to boost your childs self confidence, creativity, independent thinking, and art skills in a safe online setting?
❤️🧡💛💚💙💜
If Yes, join us for a LIVE Virtual Step by Step Paint Party for ALL AGES on Friday October 2 for 90 minutes at 4:00PT/5:00MT/6:00CT/7:00ET pm!
All ages and ability levels are welcome and you can use any supplies you have (paint, crayons, colored pencils, etc). 🎨🖍
ArtistAtHeart.org
Hi my name is Denyse and I am a certified art teacher with 25+ years of teaching experience. ❤️ I love children and the positive effect art and creativity expansion has on their lives.
Over the last several months I wanted to create a safe, stable, fun environment for kids (and parents) to enjoy a sense of community and be able to creatively express themselves. 😁
We had thousands of kids, parents, and even grandparents join in for our fun, live, interactive sessions! 🧒👦👩
During First Friday of the month event I will be showing you and your kids how to paint a take on Starry Night, Scary Night, 🎃 👻 which recently received the most votes from kids and parents!
✅ The event will be held in a private Facebook group that you will get access to after you get your $15ticket. 🎟️
*As I mentioned, you can totally use the materials you have on hand, but if you want an official materials list for this painting go to
https://www.artistatheart.org/shop .
🎃👻🎃👻🎃👻🎃👻🎃👻🎃👻🎃
EARLY BIRD SPECIAL
🎟️ Tickets are ONLY $15!! 🎟️
👻🎃👻🎃👻🎃👻🎃👻🎃👻🎃👻
***Once you purchase your Ticket you will be emailed a special link to save and join the private Facebook Group***
Join us for an hour of Fun, Self-Expression, Exploration…and Moms can paint along OR feel free to just take a much deserved long break to yourself while I paint with your kid(s). 💕🌞💐
During our past events kids have loved interacting with each other and seeing what each other create. The sense of connection has been absolutely AMAZING for the kids. Many friendships has been formed! ❤️🧡💛💚💙💜
🎟️ Get your ticket now…EARLY BIRD SPECIAL and are limiting attendees so everyone has a chance to share their masterpiece at the end (the kids favorite part)!
***Make sure to have your snacks ready and feel free to dress up if youd like!
See you there! 🎃👻🎃
Denyse Carbonell
25 Year Certified Art Teacher/M.A.Join us for our Family Fun First Friday Online Art Party. Denyse will lead you with step by step simple instructions.
This event will Take place in a private facebook group. Please make sure to CHECK YOUR EMAIL for the LINK to get you to the group, along with the secret password to get you into the group.